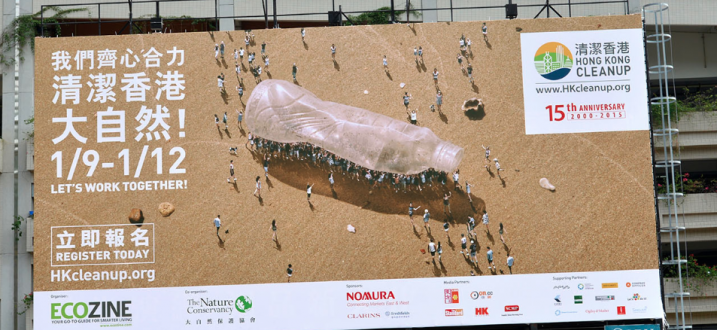 15th Annual Hong Kong Cleanup Challenges 5% of the Hong Kong Population to Take Part in this Year's Initiative!
Welcome to the Hong Kong Cleanup, organised by Ecozine and The Nature Conservancy. With this year marking the 15th anniversary of Hong Kong Cleanup, we aim to reach even more Hong Kong citizens than ever with the important message of reducing our waste!
Signing up a team is simple. It's time to get involved.
We are dealing with a serious trash issue in Hong Kong, and the world. Did you know, for example, that in Hong Kong, every day, we throw away over 16,000 tonnes of trash – including an estimated 1,368,000 disposable plastic bottles, 1,000 tonnes of plastic bags and countless more tonnes of plastic wrapping and packaging. Hong Kong generates 6 million tonnes of trash a year – the weight of 350 blue whales. Clearly, this is not sustainable. Our landfills are full, and we consume and throw away more than our city's infrastructure and surrounding ecosystems can handle, jeopardizing wildlife, economies, and our own health and safety. It's time we took responsibility for our actions.
You can make a difference, through action and awareness – why not consider signing up for the Hong Kong Cleanup Challenge?
The Hong Kong Cleanup is delighted to invite you to consider opportunities for sponsors, partners, media and NGOs with whom we can join hands for a better future. We need funding, marketing and coordinators to help spread the Cleanup Challenge far and wide. If you, your company, or someone you know might be interested in being part of this meaningful initiative in one of these capacities, we would love to hear from you!