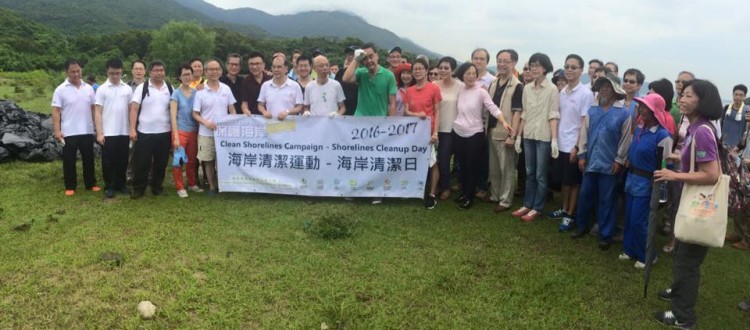 Hong Kong Government and Media Beach Cleanup
This past weekend, Hong Kong Cleanup was proud to take part in possibly a first – a cleanup with over 50 government officials.
We were advised late Saturday night that Chief Executive Mr. CY Leung would take part in a beach cleanup operation at Shui Hau on Lantau Island, on Sunday morning (July 10), so we made sure to be there and capture the occasion, as well as taking every opportunity to chat with our government friends about the issue and solutions.
Other senior government officials on hand included Permanent Secretary for the Environment, Ms. Anissa Wong; Secretary for the Environment, Mr. Wong Kam-sing; Under Secretary for the Environment, Ms. Christine Loh; Director of Food and Environmental Hygiene, Miss Vivian Lau; Director of Leisure and Cultural Services, Ms. Michelle Li; Lantau's new district Police Commander, Ms. Alice Lee; and Pokfulam's District Councilor, Mr. Paul Zimmerman, a long-time and vocal advocate for environmental and community issues.
The cleanup comes in response to the recent increase in trash that has washed up on our shores, following heavy rain in both Hong Kong and China. The Shui Hau beach is just one of many beaches in Hong Kong that are in dire condition, and require immediate effective action – but we hope this also provides an opportunity for government and communities to consider better disposal and management methods, as well as overall waste reduction tactics.
"A lot of domestic garbage was washed towards Hong Kong from the mainland… predictably due to torrential rainfalls and floods in the past few weeks," CY Leung told reporters last Sunday. "This is an extraordinary situation… we will follow this up with Guangdong relevant authorities," he said.

We trust that the government and media will not be solely pointing the finger at our Pearl River Delta neighbours, as a large portion of the rubbish cleaned up was also from Hong Kong. The trash we're seeing right now consists of everyday domestic waste, and (surprise!) 99% disposable plastic packaging. Yes, the rubbish found was a mixture of local and mainland Chinese branded trash; however this isn't an excuse to place the blame on mainland China; attention still needs to be focused on how Hong Kong can reduce and manage its garbage.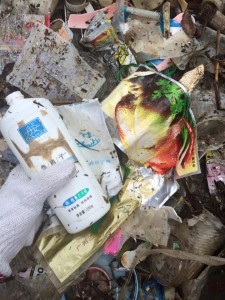 District Councillor Paul Zimmerman commented, "Waste storage and handling in Hong Kong and China should be designed for rainfall and flooding. It is the local climate – it has been and will be for a long time." Mr. Zimmerman also highlighted that attention needs to be on (temporary) refuse collection points, as well as illegal dump sites, as these are the areas most vulnerable for rubbish to wash out to sea during heavy rain.
Another issue we noted on the day was the abundance of micro debris, particularly of plastics. It was clear that although macro debris on the beach had been cleaned up, the micro debris had been left behind. This only serves to highlight how difficult it is to remove 'all trace' of debris once it gets into nature, underscoring the need for improved cleanup operations that can effectively remove micro debris. This rubbish poses a significant risk to our coastal and marine ecosystems, picking up toxins and being mistaken for food by wildlife. We witnessed a lot of garbage with small mollusks living on and it; Hong Kong Cleanup Cofounder Nissa Marion commented, "How have we gotten to a point where our human-made trash is becoming part of the landscape, part of the ecosystem? It's not meant to be this way, and isn't sustainable."
We are optimistic that, no matter how much the media labels this as a 'PR stunt', the event has provided a meaningful and eye-opening experience for the departmental heads and influencers in the government who attended, and that this experience will stay with them and help guide decisions toward better, more effective policies. We look forward to seeing stronger action from all sectors, both public and private, with more resources allocated to ongoing (not one-off) cleanup efforts as well as education and reduction at source.